Recharge Yourself with a Relaxing Winter Holiday at Switzerland
13 February, 2013
This post brought to you by MySwitzerland (with video provided by GoViral). All opinions are 100% mine.
Switzerland is well known as the world's most on-time country – trains and buses always arrive right at the exact time the schedule says it will. This winter, in MySwitzerland's efforts to promote the country as a destination for the rest of the world to rest and relax, it appears that all clocks in the country is being removed! Have a peek at the video below just how hard Switzerland is preparing for your ultimate relaxing holiday. The two favourite bearded Swiss men are at it again this season, making sure even the cuckoo clocks don't interfere with the quiet relaxation of our guests.
Stressed at work and looking for a place to spend your winter holidays, Switzerland is your best bet – there is no need to plan itineraries and stick to tour schedules – just relax in the country at a pace as gentle as you please. Time stands still with stunning views over 48 sparkling mountains over four-thousand metres high in the Swiss Alps.
Switzerland for Travellers who Love Skiing
If you love skiing, you can enjoy a stroll through the calm and tranquillity of 11 car-free winter resorts and best of all guaranteed snow at 29 ski areas above 2800m. You can reach any of these resorts or any place in the country with the stress-free travel by public transportation (yes, they still arrive on-time!). You can also watch the snow pile up at all your favourite Swiss resorts with MySwitzerland's flashy redesigned snow report.
Switzerland for Travellers who Love Nature and Hiking
Nature-lovers who also love to hike can enjoy the best of both worlds with Switzerland's extensive 3500km of peaceful winter hiking trails. You can step into a true winter fairytale with these 3500km winter walking paths stretching across the finest sunny scenery in Switzerland. There are tours for all ages and levels; in fact there are hundreds! From walking the groomed snow paths amidst the UNESCO Heritage scenery of the Aletsch glacier area, to a delicious fondue-fuelled hike above Gstaad, to a planetary stroll complete with astronomical sculptures, through the wild and rugged Val d'Anniviers. You can choose from the easy-peasy to the truly adventurous. Winter walking is something all generations can enjoy together and it's also a great way to get out on your own.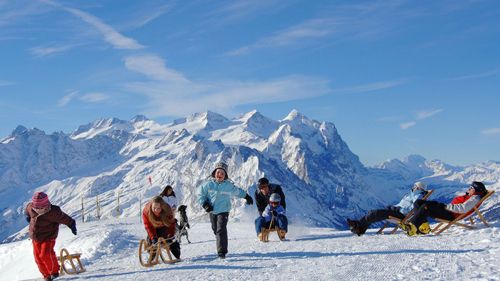 Choose where to go, find out how long it takes, and see detailed maps and route guides with the MySwitzerland's Winter Walking App. You can also check out fun family activities, hotels, huts and more in our new winter magazine. Download the winter e-brochure on a MySwitzerland iPad app at www.MySwitzerland.com/mobile.
Switzerland for Travellers who Love to Experience Local Swiss Culture
Just want to relax in the city without having to do too much strenuous activities, I have a suggestion for you – why not immerse yourself in Swis culture for a whole day? Your day will start with an energetic hour of indoor skiing (or less if you choose so). Then "work" hard for an indulgent 2 hours of Swiss chocolate making, where tasting is required – I wouldn't mind doing this work everyday! Next, take a master class in ice sculpting. Enough learning and work for the day? Then end the day relaxing in the Ice Bar with a drink or two.
Switzerland for Shopaholics
Don't even get me started on shopping in Switzerland – there are lots to buy in the country – from the chocolates to watches and Victorinox Swiss Army knifes – you can expect great quality in the products you buy from the country and the Zurich Airport Duty Free Paradise is the best place to start! In addition to tax-free and duty-free shops, there are numerous other retail outlets in the transit zone that offer an attractive choice of products ranging from souvenirs, clothing, jewellery, watches and consumer electronics to confectionery and Swiss chocolate. These shops stock items that are not available elsewhere in the same form, quality and packaging, and are tax free, i.e. are exempt from VAT – which can result in savings of between 10 and 15 percent.
Whether you're a regular or a first-timer in Switzerland, a visit to the Swiss Alps is the relaxing way to enjoy winter – at as gentle a pace as you please and in anyway you want to – as seen above – there is something for everyone with different interests in Switzerland. For me, I love to plan my travels and MySwitzerland is a great travel resource to start my trip planning – there is even a Switzerland 3, 5 or 10-day suggested itinerary available!
MySwitzerland is also making getting to the country as relaxing as being there. This winter, there is a new Swiss Alps Ski Train from London to Switzerland! Operating each Saturday from December 22 to April 13, the Eurostar service pulls out of London, changes in Lille for the TGV and then zooms direct to Switzerland. With stops at Aigle, Martigny, Sierre, Visp and Brig, the Swiss Alps Ski Train is the most relaxing way to reach the best mountain addresses this winter. Leave London at 7am, enjoy lunch on the train as you roll across France, and be in Switzerland in time for a pre-dinner aperitif.
If you need more information on Winter travel in Switzerland, check out www.MySwitzerland.com/winter.